INDEPENDENCE DAY BARBECUE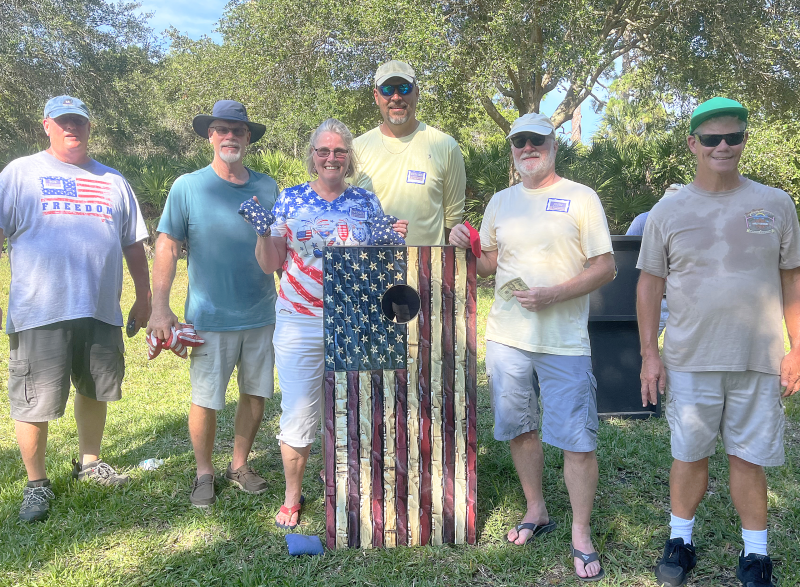 Serenoa salutes this year's winning teams in the Annual Independence Day Corn Hole Tournament.
Third place: Bob Shepard (L.) and Mike Keane (R.). Second Place: Eric Hertzog (Center L.) and Wendy Bushong (Center L.).
First Place Champions: Richard Baptiste (C.) and John Yates (Center R)
On Sunday, July 2, there was a shared sense of patriotic pride in the air, enhanced by the aroma of hot dogs and hamburgers sizzling on the grill, as the Red, White & BBQ celebration unfolded at the clubhouse... before spilling outside for Serenoa's annual "Fourth of July Corn Hole Tournament". Serenoans feasted on grilled meats, baked beans, cold 'n creamy salads and holiday inspired sweets— prepared by attendees, and grillmasters Eric Hertzog and Mike Bushong­— and served up by Diana Layton's fabulous Social Committee. Members earned a heart felt salute for their beautiful transformation of the Clubhouse— a holiday spectacle of red, white and blue!
Congratulations to Roseanne Marincas, who garnered the 50/50 winnings— and to the victorious Corn Hole teams, who braved the heat in a grueling test of skill and stamina. Eight teams battled for nearly an hour before champions Richard Baptiste and John Yates claimed the championship crown... plus a few extra bucks for their mastery of the game.

All in all... the event was a rousing success. Great weather... great food... and great neighbors... celebrating America's 247th birthday in "star spangled "style.