SERENOA HOLIDAY PARTY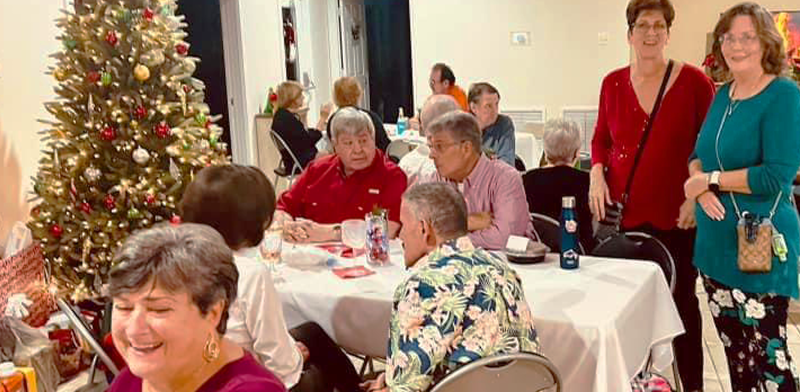 Clubhouse sparkles with holiday cheer!
On December 10th, the Clubhouse was bursting at the seams with holiday revelers eager to celebrate the season with their Serenoa family. Naturally, the festive scene was filled with spirited conversations of neighborhood news, plans for upcoming family get-togethers, and New Year's resolutions in the making. Guests chatted with friends, renewed acquaintances, and welcomed new neighbors to the fold— sharing seasons greetings, libations of choice, and platters of scrumptious hors d'oerves... before a fabulous buffet dinner was served, compliments of the HOA. As party goers satisfied their sweet tooth desires from platters of pastries and holiday cookies, social committee prez Diana Layton doled out door prizes, and cash winnings from the 50/50 drawing. A large gift basket of goodies was awarded, as well as two beautifully painted shell ornaments— created, and graciously donated, by Robin Dapp. The 50/50 drawing gleaned over $300! Roseanne Marincas claimed the winners share, sharing the spoils with the Social Committee, who will put those funds toward a New Year's Continental Brunch for the community on January 15th (details to come). Given a thumbs up by all who attended, we offer kudos to the tireless efforts of all the committee members.